Built around a large-format 4K version of the original ALEXA sensor, the ARRI ALEXA Mini LF camera offers native 4K recording in three sensor modes, with ARRIRAW or ProRes recording in LF Open Gate, LF 16:9, or LF 2.39:1 modes. The ALEXA Mini LF combines large-format resolution with an optimal pixel size for excellent image quality producing vivid, nuanced images with natural skin tones and smooth bokeh. The ALEXA Mini LF is designed for use with ARRI's LPL lens mount, available separately, which has been optimized for large-format capture and is compatible with all PL-mount lenses with the use of a separately available PL-to-LPL adapter. A wider diameter and shorter flange focal depth than the original ARRI PL mount enable LPL-mount lenses to be smaller and lighter than earlier large-format optics.
Large-format sensor in an ALEXA Mini body

The ALEXA Mini LF is a hybrid of the ALEXA Mini and the ALEXA LF, as it retains the same LF sensor but has the form factor of the Mini. The new exterior has a left-side media bay with two rows of connectors on the back and a slot to insert 1TB Codex media. It also features six user buttons, three more than the Mini, to configure to your preference. It also features extra 12 and 24V power outputs and a black burst/tri-level input. The audio input connector is now 6-pin, so it doesn't conflict with the 5-pin timecode port.
The Mini LF offers an array of recording format choices in MXF ARRIRAW and MXF ProRes, recording to 1TB Codex capture drives. With a base sensitivity of EI 800, 16-bit processing, and a dynamic range of 14-plus stops, your footage is effectively future-proofed for compatibility with HDR displays. Frame rates up to 90 fps produce smooth slow motion and enable capture for higher-clarity HFR (High Frame Rate) projects.
The wireless connectivity of the ALEXA SXT  is built into the ALEXA Mini LF, providing Wi-Fi and compatibility with ARRI ECS lens/camera control systems. An internal Large-Format Full-Spectrum Neutral Density (LF FSND) filter system features 0.6, 1.2, and 1.8 filters. Additional ALEXA Mini LF features include compatibility with existing ARRI Look files and workflow, clip playback in both MXF ARRIRAW or MXF ProRes, and 2-channel, 6-pin XLR audio input.
Additional new features
Three internal, motorized large-format FSND filters: ND 0.6, 1.2 and 1.8
New dedicated, regulated 12 V and 24 V accessory power outputs
New SYNC IN and improved AUDIO connectors
Two built-in microphones
Six user buttons on camera's left side
One LOCK button each for camera and viewfinder
Additional external WiFi antenna
Easier access to media, VF and TC connectors


---
Sensor
The ALEXA Mini LF uses the same sensor as the ALEXA LF. This is the ALEV 3 A2X sensor, which has the same photosite size and type as the Super 35 ARRI digital cameras. It has 4448 x 3096 photosites (yes, it is therefore a 4.5K sensor) and measures 36.70 x 25.54 mm.
Recording Formats and Frame Rates
The ALEXA Mini LF supports the same recording formats as the ALEXA LF. Recording formats and maximum frame rates of both cameras are shown in the table below.
Recording Media
The ALEXA Mini LF uses the new, small and cost-effective Codex Compact Drive 1 TB.
The Compact Drive has been specifically designed for the small form factor of the ALEXA Mini LF, using new flash technology in a miniaturized tough casing. The ALEXA LF Mini accepts Compact Drives directly, without the need for an adapter. ALEXA LF or ALEXA SXT W do not support the Compact Drive.
The Compact Drive 1 TB contains one industrial SSD and both ARRIRAW and Apple ProRes recording can utilize the drive's full recording capacity of 960 GB. The drive will be formatted by the ALEXA Mini LF in the UDF format for ARRIRAW and ProRes. Therefore, both ARRIRAW and ProRes can be recorded onto the same media without reformatting or switching drives. The drive offers sustained write rates of up to 8 Gb/s.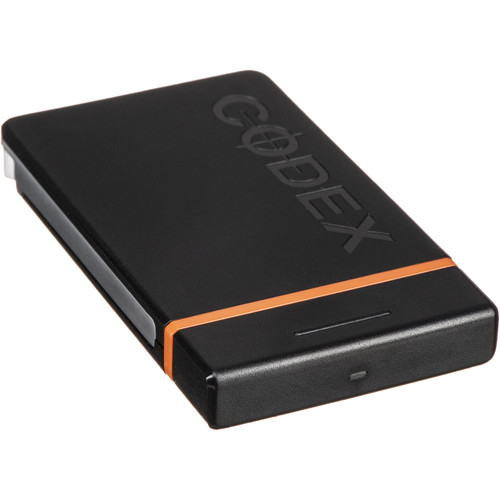 New MVF-2 Viewfinder
Offering simultaneous use of its high-resolution OLDED viewfinder and its 4" flip-out monitor, the MVF-2 is truly a multi functional unit. Two control dials (one on each surface of the monitor) enable the MVF-2 to be used on either side of the camera, providing the operator or assistant control as best suits your shot. Both the OLED EVF and the monitor feature upgrades from the MVF-1, including the ability to detach the eyepiece from the monitor unit.
HD OLED display, color science and ARRICAM eyepiece like ALEXA LF EVF-2
Optimal judgement of focus, dynamic range and color
Stable color balance through temperature-controlled display
Large 4" flip-out monitor shows image or camera menu
Three operation modes: single operator, crew or remote
Dimensions
The ALEXA Mini LF (left) has the same dimensions and the same mounting points as the ALEXA Mini (right), except for the media bay on the camera left side. Our current prototypes weigh in at 2.6 Kg for the camera body with LPL lens mount and 800 g for the MVF-2 viewfinder.

Power
The ALEXA Mini LF has a voltage input range from 11 V to 34 V. Therefore, it can be easily powered by any 14.4 V on-board battery as well as by 24 V on-board batteries.
The ALEXA Mini LF has a power draw slightly higher than the ALEXA Mini, we estimate currently at around 65 W when recording ARRIRAW at 24 fps with the MVF-2 viewfinder connected. Note: electronic accessories will increase power draw based on the accessories' power draw.